The Four Winds DIfference
STAY ON THE WILD SIDE
Four Winds Beach House & Spa is perched on a rocky point, jutting into the waters of Georgia Strait . Sheltered from the brunt of the south easterlies by Trail Islands , Four Winds is a magnificent view point for the wilds of a winter storm or the beautiful calm of a summer day. Our guest wing (the "West Wing") is on the lee side of the point so you will sleep snugly, marveling to the sounds of the water just below your windows.
---

COMPLETE PRIVACY
Guests enter the private guest wing through the front (separate entrance) double doors. The guest rooms and massage therapy room are in this wing along with a common area with a gas fireplace. The common area is the architectural highlight of the house. Entering the room with its floor to ceiling windows on all walls feels like entering the stern lounge of a cruise ship. At first glance, no land is visible, just the endless expanse of ocean. Find out more!
---
GIFT CERTIFICATES ARE AVAILABLE
Last minute gifts are a breeze with our instant telephone and email delivery system. Make the call to us on our toll free number 1-800-543-2989, use your Visa or MasterCard and we will immediately send you a printable gift certificate by email. Send your friends and relatives the gift of Bed and Breakfast combined with spa treatments for a present that is guaranteed not to clutter their home! Christmas, birthdays, weddings, anniversaries......... Find out more!
---
REGISTERED RMT
While you are here, take advantage of our spa treatments. The owner, Brenda Wilkinson has been a British Columbia Registered Massage Therapist since 1984. She taught at the West Coast College of Massage Therapy for nine years and has done extensive post-graduate studies in Trigger Point Therapy and Craniosacral Therapy. The massage treatment room in the guest wing of our beach house has windows over the ocean and a calming ambience. The sound of waves will lull you into a meditative state as you receive your treatment. Find out more!
---
QUALITY FOOD
Quality food is one of the hallmarks of staying at Four Winds. Ordering organic fruits and staples from the wholesaler, ensures that we have the freshest possible ingredients. Each meal includes baking, a wide variety of fruit and a hot dish which changes each day all prepared fresh and from scratch in the Four Winds kitchen. We have created thousands of mouth-watering breakfasts in our years of operating Four Winds Beach House and Spa. Find out more!
Your Hosts
About the Innkeepers
David grew up in Osoyoos, the southern end of the sun-filled Okanagan. University brought him first to Victoria and then to a Degree in Commerce and Business Administration from the University of British Columbia. A love of preparing fine food helped him to make the happy decision to open Four Winds Beach House and Spa, with his wife Brenda, in Sechelt in 1993. David is very involved in his community. He has served on the boards of the Sunshine Coast Bed and Breakfast and Cottage Owners Association. He is a past president and current board member of the Rotary Club of the Sunshine Coast - Sechelt
Brenda started her life in Burnaby on the outskirts of Vancouver. After a few false career starts, she uncovered her passion by becoming a Registered Massage Therapist in 1984. What she has brought to the Bed and Breakfast is a professional spa, first by offering massage therapy, craniosacral, trigger point, neuromuscular therapy and hydrotherapy but most recently by training as a La Stone therapist - the original hot stone therapy. Brenda is an avid mountain biker and can often be persuaded to share her knowledge of the local trails.
Gourmet Breakfasts
Breakfast Recipes
CHEESE SOUFFLE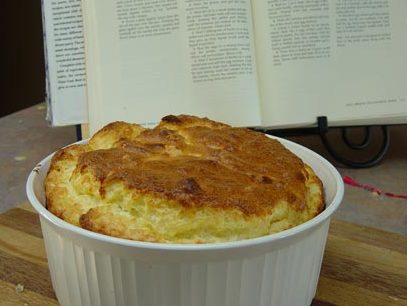 Ingredients
6oz cheddar cheese, grated
6 Tbsp butter
6 Tbsp all-purpose flour
1 tsp salt
1/2 tsp paprika
dash cayenne pepper
1 1/2 C Milk
6 eggs, large, separated
Grate cheese, set aside; in top of double boiler over boiling water, melt butter; blend in flour and seasonings. Add milk all at once and cook, stirring constantly, until mixture is smooth and thickened. Add cheese and stir until melted. Remove from heat.
Beat egg yolks until thick; gradually stir into cheese mixture, blending thoroughly.
Beat egg whites in a large bowl, until stiff but still moist. Gradually pour cheese mixture into the whites, folding carefully until blended.
Bake in a two-quart soufflé dish or casserole in moderate oven, 350 Deg. F, for 45 – 50 Minutes or until puffed and golden brown.
Serve immediately. Makes 6-8 servings.
Additional Notes: Alternate way of preparing first step: melt butter in microwave. Heat milk in microwave. Blend flour and seasonings with butter. Add milk and stir until blended. Cook in microwave on high for 2 –3 minutes, stirring after each minute, until the mixture is smooth and thickened. Proceed as above.

---
BLUEBERRY OVEN PANCAKE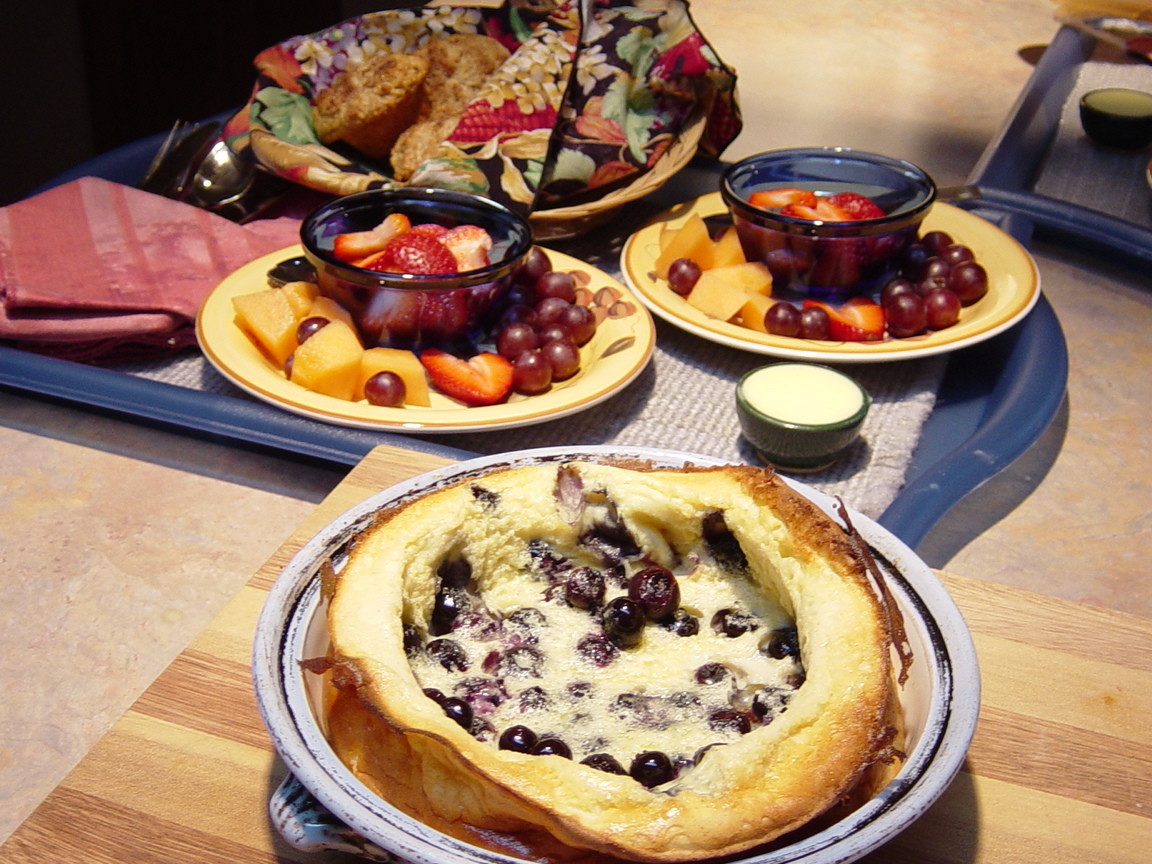 Ingredients
1/2 C flour
2 Tbsp butter
4 eggs
1 C milk
1/2 tsp salt
2-4 Tbsp sugar
1 tsp vanilla
1/2 C frozen blueberries
Preheat oven to 400 Deg F. Measure the butter into a large glass pie plate or other oven proof dish and place in the oven to melt bytter while mixing the other ingredients. Crack the eggs into a large bowl and whisk until beaten. Continue beating and add the milk, flour, sugar, salt and vanilla.
Remove the hot dish with melted butter from the oven, pour in the egg mixture and sprinkle the blueberries on top. Put back in the oven and bake 25 to 35 minutes, until the center puffs up. Cut into four and serve immediately. I serve with maple syrup.

---
BLUEBERRY MUFFINS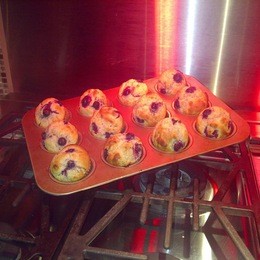 What could be special about blueberry muffins? Well, this is probably my most requested recipe. Between the guests and the family these muffins disappear quickly.
Ingredients
2 cups flour
½ cup sugar
½ tsp salt
3 tbsp baking powder
Rind of one lemon
1 egg
1 cup liquid (usually milk, but equally good with 1/3 cup vanilla yogurt, 1/3 cup half&half cream, and 1/3 cup milk)
½ cup butter, melted
1 cup fresh or frozen blueberries
Preheat oven to 425 degrees. Mix flour, sugar, baking powder, salt and lemon rind in a large bowl. Whisk egg in a medium bowl, add milk and melted butter. Add the egg mixture to the dry ingredients and stir until just mixed. Stir in blueberries. Fill muffin tins, makes 12 muffins and bake for 20 minutes.
---

OVERNIGHT CARAMEL FRENCH TOAST

Ingredients
½ Cup Butter
1 Cup Brown Sugar
2 Tbs Light Corn Syrup
5 Large eggs
1 ½ Cup Milk
1 tsp Vanilla
¼ tsp salt.
Thickly slice a loaf of day old French bread, I cut the slices about 1 ¼ inches thick. Trim off crusts and fit into a 9 X 13 inch pan. Remove bread.
Combine butter, brown sugar, and corn syrup. Heat over double boiler until sugar is melted, stirring constantly. (You can do this in the microwave, heat on high for 2 – 3 minutes, stirring after each minute.)
Pour butter/sugar sauce into the 9 X 13 inch pan and spread evenly over pan. Replace bread on top of the sauce.
In a large bowl, beat eggs lightly. Add milk, vanilla and salt. Mix thoroughly with whisk. Pour egg mixture over the bread in the 9 X 13 inch pan. Cover with plastic wrap and let sit in the refrigerator over night.
Bake at 350 degrees F. for 30 minutes, or until golden and the center starts to puff up.
Serves 8.
I serve with cold applesauce.
Community Involvement
A Stay with Four Winds Supports our Community
David and Brenda, owners of Four Winds Beach House and Spa are very involved in their Sunshine Coast Community. "I have always been involved in some way," David says, whether it has been Coast Guard, Scouting, helping out at Homework Club at their children's school or his new love – Rotary Club.
David started out in the volunteer Coast Guard not long after David and Brenda moved to the Coast with children, Chris 4 and Sarah 4 months. In the early days of running a Bed and Breakfast, Brenda could be with the children until David returned from middle of the night searches.
One such rescue resulted in David receiving a Certificate for Gallantry from the Scouting Association where he served as a leader with Cubs as well as a Certificate of Commendation from the Coast Guard Auxiliary. Two marine biologists lost control of their boat in very stormy weather off the Sunshine Coast and David and his team mates risked their lives to go in with the Coast Guard Zodiac to bring the men to safety. The guests at the B and B still got their breakfast the next morning – unaware that their host had been doing lifesaving in the wee hours of the morning.
David is now very active in the Sunshine Coast Rotary Club. He can often be found at local projects – beautifying community properties or flipping burgers on the grill. He is also involved in a project to partner with the people of Ndandini, Kenya on projects such as drilling wells and providing educational facilities.
Brenda has recently returned home after a stint of working in Vancouver and was immediately asked to volunteer coordinate a Cold Weather Drop in program to provide dinner to homeless people on the Coast. This project was almost ready to start with the work of four different churches – United, Anglican, Baptist and Catholic but the Rotary Club and Lion's Club soon joined in as well as Brenda's mountain biking group from Halfmoon Bay. Each organization offers dinner one night a week and it has been hugely successful.
Brenda, a BC Registered Massage Therapist is also involved in a volunteer group that offers energy work in the community. This makes energy based therapy available to anyone who needs it but possibly can't afford to pay the prices usually charged by practitioners.
By choosing to stay at Four Winds you help to support the work that Brenda and David do in their community. With the flexible work hours that a home based business provides it ensures that they can be available to help out when needed.